Get all the latest news on coronavirus and more delivered daily to your inbox. Sign up here.
Sophie Turner is questioning Joe Jonas' quarantine habits.
The "Game of Thrones" alum, 24, chatted with Conan O'Brien recently for "Conan at Home," where she discussed her most recent revelation about her 30-year-old husband.
RACHEL BLOOM, HUSBAND DAN GREGOR WELCOME DAUGHTER DURING CORONAVIRUS PANDEMIC: 'MOST EMOTIONALLY INTENSE WEEK'
"I mean, this is something that's only kind of come to my attention since this quarantine thing, but I saw … it was like a meme online or some comment or something and someone said, like, 'If you're wearing denim pants at home, like, what does that say about you as a person?'" she said. "Like, are you a psychopath? And Joe does that."
Turner revealed earlier in the interview that she was wearing sweatpants, calling herself "business on top, party on the bottom."
"Joe wears denim trousers at home — where no one can see him. I'm not wearing denim trousers," said the actress. "This is the most dressed up I've been in days."
O'Brien admitted that he's been wearing jeans as well.
"I can relate to Joe because I've been wearing jeans a lot," the 56-year-old comedian said. "Sometimes I think 'Why am I doing this?'"
TAYLOR SWIFT HELPS SMALL NASHVILLE RECORD STORE STAY OPEN DURING CORONAVIRUS CRISIS
"Why do that to your groin, Conan?" Turner then joked.
Earlier in the interview, Turner also discussed why she's "kind of loving" quarantine.
"I'm an introvert, I'm a homebody. If I could stay at home all day, I would, so this is great for me," the actress said. "I leave the house once a day anyway to walk my dogs and then that's it."
Turner said she doesn't understand why some people struggle to practice social distancing.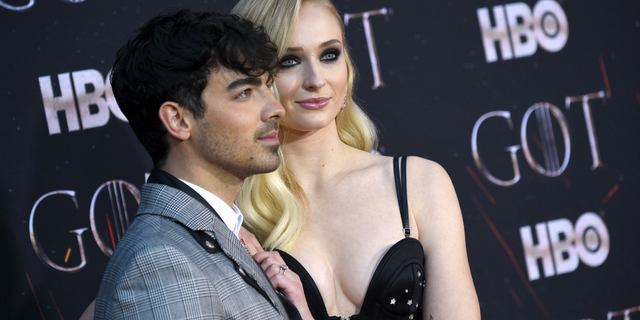 Joe Jonas and Sophie Turner. (Photo by Evan Agostini/Invision/AP, File)
"All you have to do is stay at home and get drunk at home," she said. "It's great."
The two then discussed whether Turner and Jonas have struggled to spend so much time together.
"Everything seems to be working out in my favor," Turner explained. "Joe's a real social butterfly so I struggle to lock him down and have him just spend time with me, so it's like prison for him but it's great for me."
Turner said that Jonas has begun to DJ on Instagram to keep himself occupied, which Turner said she plays a role in.
CLICK HERE TO GET THE FOX NEWS APP
"I pour him drinks, I give him his alcohol. I give him tequila shots," she said. "He'll test me and be like, 'What time is it?' and then I'll reply from the kitchen, 'Shot time,' and bring him a shot of tequila."
As for when exactly "shot time" takes place? Turner said: "There's no rules in quarantine."